SIMPLEX CNC ROUTER
The Simplex SR 224 is a perfect teaching tool for students in the ever expanding CNC educational field. It is also ideal for customers requiring a smaller table size, but still interested in high precision cutting.
Machine Specifications:
24" x 24" (610mm x 610mm) Cutting Area
4" Z Axis Travel (can be higher by request)
1.5 to 5 HP Router Spindle Available
1/2" and 1/4" collets included
110 VAC Power
200"/Minute maximum feed rate speed on all axis
Malimine cabinet with Lexan composed windows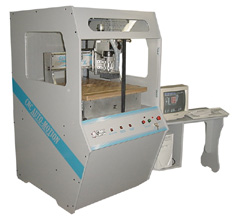 CLICK HERE TO ENLARGE PHOTO
---
Self contained unit, requiring 110 vac, 30amp power

Rails & bearings comprised of Thomson precision linear parts

Router frame consists of machined aluminum construction

Table top surface constructed of mdf with a polyurethane base sealer for protection and durability

Machine cabinet made of malimine, while windows composed of lexan material

Controller accepts standard g & m codes

Computer based system allows g code file size to be unlimited

Control via special parallel port cable
---
Software Details:
MS-DOS based CNC software

Look ahead constant velocity contouring on all axis allows toolpaths to be created more quickly and efficiently by analyzing the trajectory of the next line and adjusting the transition speed instead of ramping up and down for every line in the cad program

Precise pulse timing achieves superior motor performance by tapping into the hardware timer chip built into every PC motherboard. this results in exact timing of the pulses sent from the CPU to the motor drivers, therby maximizing the motors capabilities

Up to 4 axis backlash compensation

Acceleration and deceleration for linear, circular, and helical interpolation

Circular and helical interpolation is just as fast and smooth as linear interpolation

Up to 4 axis linear, circular, and helical interpolated movement

Circular and helical interpolation in all three planes (XY, YZ, and ZX)

Feed rate override

Program break and pausing

Feed hold line (primarily for servo's that use the galil or other similar chip sets)

Line by line program execution

Skip forward and back through program line by line

Real time program viewing

Real time coordinate and speed updates

4 user defined output switches

Machine homing

Supports parametric programming

Supports subrountines

Supports drill cycles

Tool length compensation

Programmable tool table

All parameters are configurable to almost any machine

Multiple machine configuration storage
---
Navigation
Please use the menu on the left edge of the screen to visit the numerous products we have available, or to contact us regarding an application that requires a custom built machine.
Information
If you have any questions or would like to receive a quotation for any of our machines please e-mail us at sales@cncmotion.com
© CNC Auto-Motion Ltd. 2013
---