MOTIONCAT CNC LATHE
The Motioncat TC650E is a 2-Axis CNC controlled wood turning lathe designed for turning spindles, posts, columns, and even baseball bats if that is your finished product. Profiles are designed in CAD/CAM software provided with the machine and stored on the control computer for easy recall. This eliminates the need for changing templates between jobs which can be time consuming and expensive. The lathe runs on single phase power so it can even run in small workshops or a garage. Standard features include a flip up safety guard and dust extraction hood as well as center punch mounted on the machine


Motioncat Photo Gallery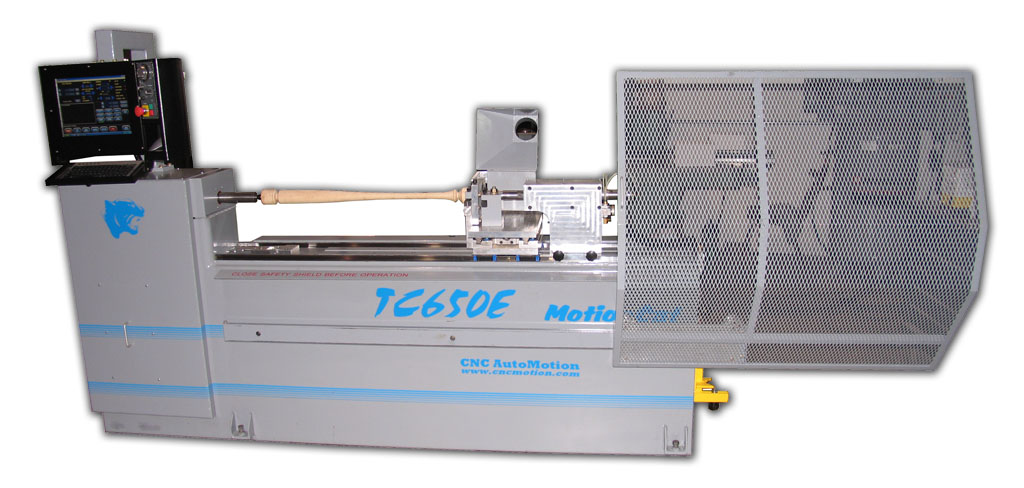 MACHINE SPECIFICATIONS
2 Axis CNC controlled turning lathe
50" maximum capacity between centers
7" maximum turning diameter of round stock
5" maximum turning diameter of square stock
3 HP spindle motor, 220V single phase
Air actuated tailstock
Headstock centering device for easy centering
Centering punch mounted on machine for easy center punching of blanks
Double sided carbide blades for simple blade replacement
Micro adjustment of steady rest blade
Flip up safety guard
Dust extraction hood
Heavy steel construction to control vibration
Thomson precision linear rails and ball screws
Square steady rest (optional)
Mach3 control system including flat panel LCD monitor with touch screen
CAD/CAM design software
COLUMNMASTER CNC LATHE
CNC Auto-Motion is proud to introduce our brand new line of heavy-duty 3-Axis computer controlled turning lathes. The Columnmaster CNC Lathe is capable of accurately turning a wide variety of finished products such as columns, both large and small, rope twists, and newel posts. Our lathes are capable of automatically turning columns up to 24 inches in diameter, with a maximum length of 16 feet. Our automatic six position tool changer offers speed and versatility for those tough demanding jobs. The Columnmaster CNC Lathe is capable of cutting a wide range of materials, from wood and plastics to a wide array of composite materials.

Columnmaster Sample Photo Gallery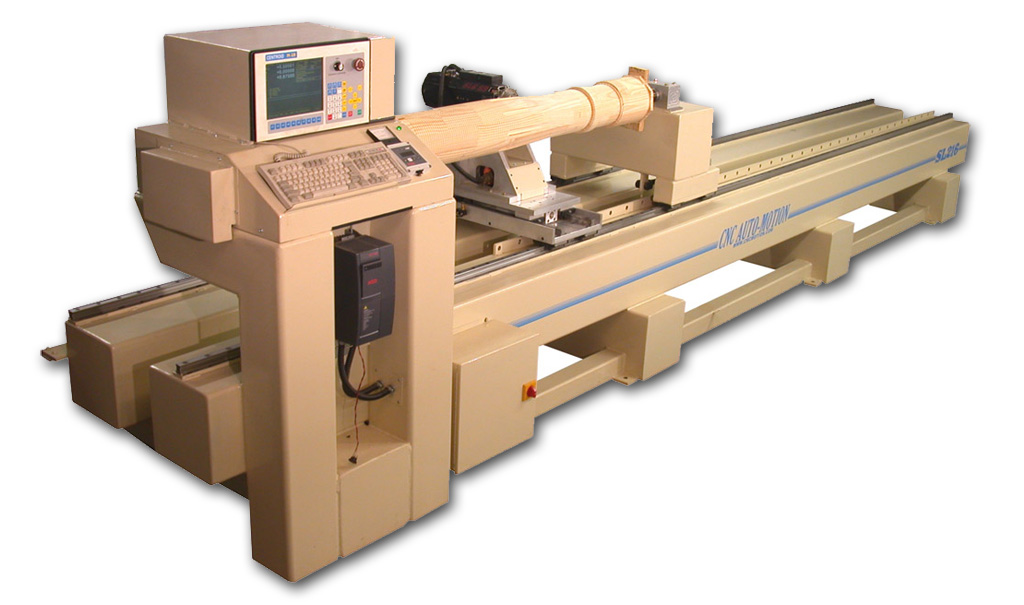 MACHINE SPECIFICATIONS
3 Axis CNC controlled turning lathe
16' maximum capacity between centers
24" maximum turning diameter capacity
Thomson precision linear rails on X and Y Axis
Rack and pinion drive system on X Axis
Thomson precision ball screw assembly drive system on X Axis
HSD ES919 Router spindle (10 HP, 12000-24000 RPM)
ISO-30 Tool holder
6 Position automatic tool changer
Centroid M15 CNC control system with LCD panel
Heavy steel construction
CAD/CAM design software
Navigation
Please use the menu on the left edge of the screen to visit the numerous products we have available, or to contact us regarding an application that requires a custom built machine.
Information
If you have any questions or would like to receive a quotation for any of our machines please e-mail us at sales@cncmotion.com
© CNC Auto-Motion Ltd. 2017
---